Meeting Sophie Taeuber-Arp at MoMA
Like many things I did in my life, I also see my artistic creation as a journey that I had started at some point because I felt something like wanderlust inside me. An emptiness, a gap, that I didn't know exactly how to fill. I just knew I had to fill it. With whatever.
I never got the benefit of studying art, so I just set out and followed my heart, when in my fourties, I felt my web developer career is not satisfying me anymore. I set off, one step at a time. I took art classes when I wanted to learn something I didn't understand and I tried around a lot. I stepped out of my comfort zone, dared a few risks.
What may sound like a courageous resume, is often nourished by doubts. I feel an indescribable joy and am proud of myself on good days (which fortunately predominate). What I do is just unfiltered and unprejudiced ME. But then there are not so good days when I question everything. Is what I am doing the right hing? Is it good? Does it make sense? Is it art? Can I show it to someone, will someone ever buy it? In such moments, the fact of never having studied art, takes away my courage to continue.
Only when we go into ourselves and attempt to be entirely true to ourselves will we succeed in making things of value, living things, and in this way help to develop a new style that is fitting for us.

Sophie Taeuber-Arp
But then it happens again and again, that I meet renowned artists, who have created works that express exactly what I put on my papers. It's like finding a new friend every time, someone you feel connected to, because they think and feel exactly the way you do. I have already met a few of these friends. Sean Scully was the first, followed by artists like Paul Klee, Robert Rauschenberg and Andy Warhol to name a few. The newest member in my circle of friends: Sophie Taeuber-Arp. Especially the young Sophie Taeuber-Arp and her vertical-horizontal compositions.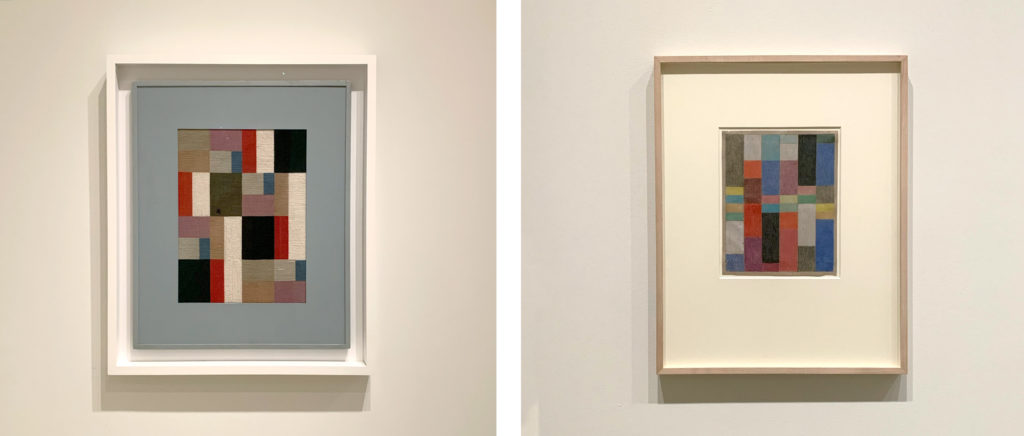 Synchronism kicking in
Although Taeuber-Arp, being Swiss, has her place in Swiss museums all over the country, I only found access to her today, through the current retrospective at the MoMA. The same exhibition was already on view at the Kunstmuseum Basel in the spring, but I missed it there. Which makes perfect sense, because right now, this encounter comes in handy. I'm at a point where I am looking for new inspiration and trying to define, where to go next. It's once again a proof of synchronism happening to us, whenever we open our hearts.

I am spending my days studying her works. The colors, the compositions, the rhythms and how she created harmony in the whole. I like her abstractions, the swans, the dancers, just brilliant. I also find it very exciting how over time she breaks out of the strict horizontal-vertical grid, how it dissolves and then completely free compositions emerge. I don't feel ready for that in my works (yet). I am too much of a grid person right now and probably need to develop personally before I can break out of these grids. Which doesn't necessarily have to be the case, though. I feel, something has to change within the grids, though can't yet grab it. But as I said, it's all a journey, a path I am going and that will lead me where it's best for me and my works.